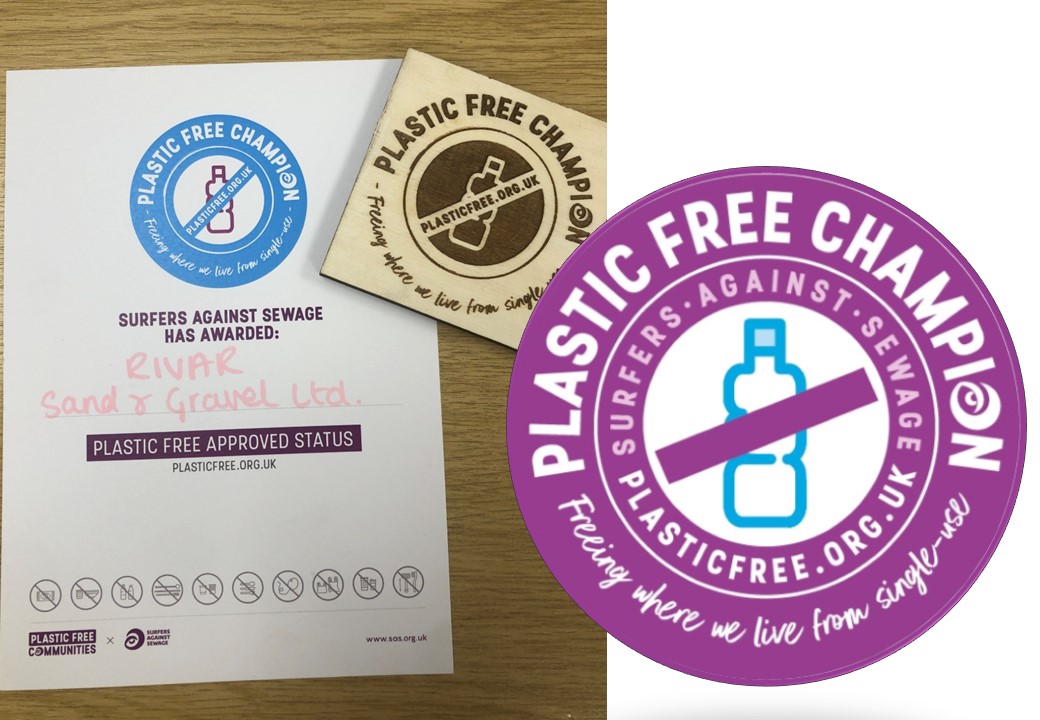 Rivar Sand and Gravel become plastic free Champions!
We are proud to announce that Rivar Sand and Gravel have been awarded the Plastic Free Champion award from the Surfers Against Sewage Plastic Free Community.
As a small business we are always trying to think of ways to reduce our carbon footprint and it's not always easy to know how when not everything that comes through our business is in our control, so we teamed up with The West Berkshire Sustainable Community to ask for help!
They immediately put us in touch with the Surfers Against Sewage Plastic Free Community who run a scheme to help reduce plastic in businesses. We had to commit to removing 3 pieces of plastic from the business which was actually easier than we thought.
Firstly we removed all the disposable hot drinks cups and replaced them with mugs or refillable thermal cups. Next we stopped buying bottled water and instead re-fill the water containers at home and bring them to work (we have no running water in our offices!) Finally we have reduced the amount of plastic cups we use, instead we now bring in refillable water bottles.
These seem like very small changes and might not seem like they would make a difference but added together with the other businesses locally that are also joining up this can make a real difference. And this is only the beginning, making small changes, establishing them and then moving onto the next one is a really sustainable way of making a real long term impact on the climate crisis.
Other ways that we are helping to make a difference is by recycling our office waste by taking it home to our kerbside recycling bins instead of just throwing it in the skip, we keep the pallets goods are delivered on and give them away to anyone who wants them (they are very popular with the local allotment holders).
We have also installed more loose bays at our Newbury depot to enable our customers to be able to purchase materials without the plastic packaging, bays include screened soil, compost, gravels and sands and customers just pay for the weight of goods that they have which also saves on wastage as well as plastic packaging!
Joining the Plastic Free Community and the West Berkshire Sustainable Community is just the beginning of our sustainable journey, and we can't wait to see where it leads us.