Textured Italian Porcelain Paving Solutions
Wood Effect Porcelain, Italian Porcelain Tiles, Porcelain Suppliers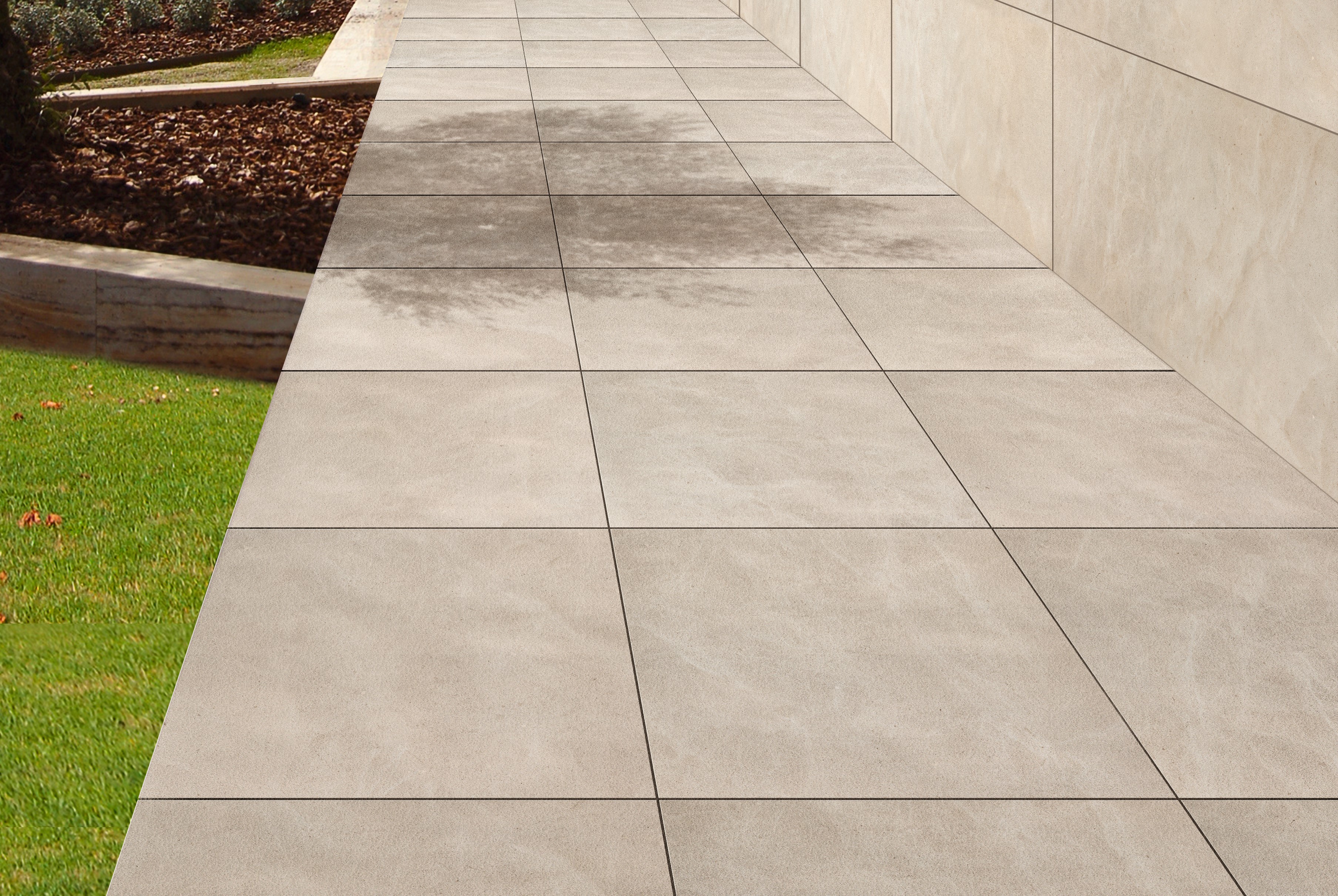 Professional landscapers, designers and home owners are discovering the versatility, longevity and appeal of porcelain paving. It's in great demand and we suspect that wood effect porcelain tiles, polished or textured Italian porcelain options won't ever lose their attraction for consumers.
Where can you use porcelain?
One of the key attributes of Italian porcelain and wood effect solutions is the ability to use them indoors and outside. Create continuity from the front door to the rear garden gate by using the same product for flooring as for the landscaping. Make a path from the conservatory to the shed; a patio or dining space which connects back to the kitchen or a lounge which drifts seamlessly into a terrace or balcony.
You're limited only by your imagination.
Perhaps you're looking for an Italian porcelain solution in muted tones to blend with planting? White, beige, pastel shades and browns provide an interesting backdrop that emphasise the beauty of nature. Jura beige or Brera Italian porcelain tiles would look sublime.
Maybe there's a need to rejuvenate the entertaining area outside; it looks tired compared to the property interior. Want colour, texture and vibrancy? Wood effect porcelain tiles or plain? The choice is yours.
Has a new patio furniture purchase tempted you to think about changing the patio colour and the conservatory décor before winter? You have a traditional scheme and want to enjoy a sophisticated continual flooring and paving solution. Multicolour, stone blend golden porcelain or paving in grey tones could provide the perfect answer.
A monochrome design scheme demands black paving, and you want patterning. Nero black and dark grey paving has lighter flecks in the tiles. Cardoso dark has attractive feathering; perhaps black slate effect may be your preference.
What is porcelain paving comprised of?
Italian porcelain is robust and non-porous.
Clay, quartz, feldspar and other minerals are present in the paving. Tiles are fired at temperatures up to 1400 degrees Celsius; they're made to last a long time.
Why use porcelain instead of timber?
Wood effect porcelain tiles create a stunning design feature within a domestic or commercial exterior space, at an affordable price. Exceptional craftsmanship guarantees that the porcelain resembles the wood type; enjoy a range of options including jasmine and maple.
Wood effect porcelain tiles last longer than the timber alternatives and demand minimal attention. They're happy with a quick wash every so often. Timber requires regular pressure washing, staining or oiling to preserve its quality over the years.
Another bonus, wood effect porcelain tiles are lighter than timber which makes installation easier.
What other benefits do Italian porcelain tiles deliver?
Rivar's own range of polished, textured and wood effect porcelain tiles are fade, frost, slip, stain and watermark resistant. They cope admirably with all weather conditions and endure for several years. Porcelain paving is a wise investment in functional terms and aesthetics.
Not all paving materials solutions offer these qualities.
Why not indulge yourself with high quality, low maintenance Italian porcelain tiles with guaranteed kerb appeal and a pocket friendly price tag? Please call in and chat to us today.