Newbury In Bloom 2020
NIB2020, Newbury in Bloom 2020, Civic Pride, Newbury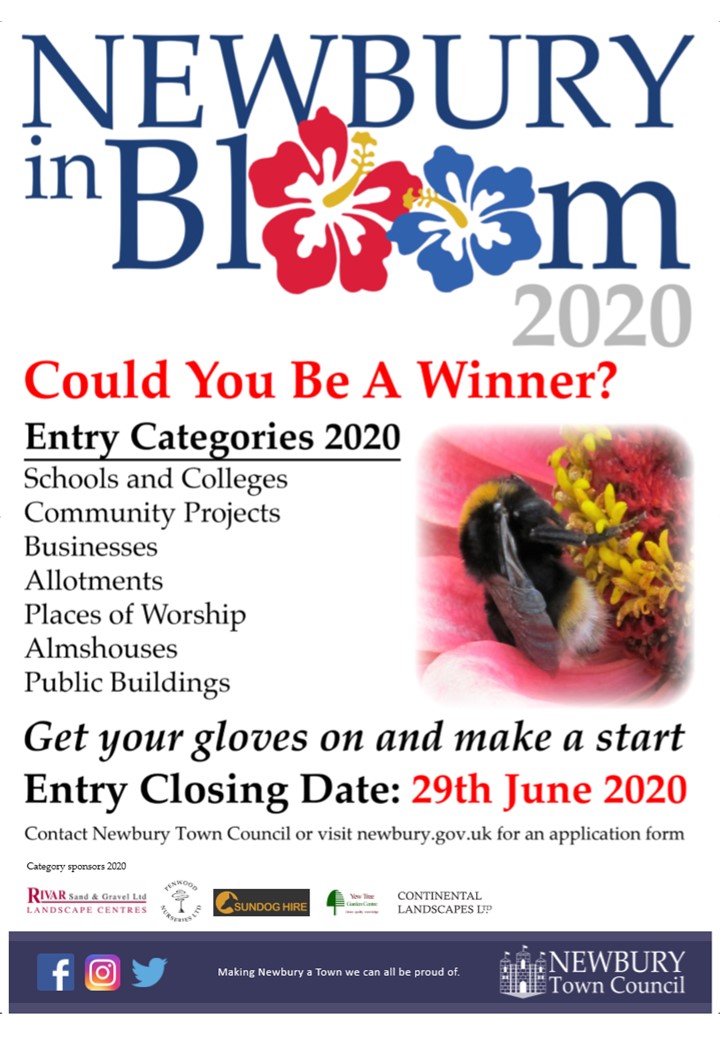 The applications are now open for the Newbury In Bloom 2020 competition.
This is now an annual campaign promoting environmental improvements across the town aiming to make Newbury an inviting place for people to live, work and visit.
The Newbury In Bloom initiative has been giving support to local community projects over the last 4 years, and heading up local pop up projects like bulb planting, tree pruning and rose bed planting, helping the community take ownership of their local areas by creating place of beauty that everyone can enjoy and proud to be part of.

Newbury is really reaping the benefits of the support the campaign has given and last year won a silver gilt in the Thames and Chiltern in Bloom competition, and were also the recipients of the 'Inspiring Everyone to Grow' award for the amazing community effort of all our local volunteer groups.
This years Newbury in Bloom campaign categories include -
Schools and Colleges
Community Projects
Businesses
Allotment plot
Places of Worship
Almshouses
Public Buildings
Britain in Bloom 2020 will again incorporate the highlights of Newbury in Bloom and will be used to continue to improve the appearance and the environment of the Town, If you are interested in being involved in Britain in Bloom or Newbury in Bloom here are some contact details -
- Newbury in Bloom application form click here.
- Newbury in Bloom web page www.newbury.gov.uk/newbury-in-bloom
Phone - 01635 35486
Email - towncouncil@newbury.gov.uk