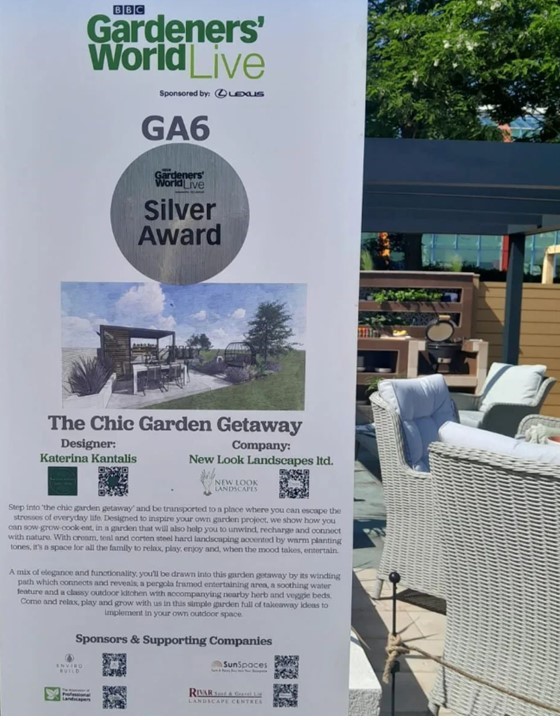 Gardeners World Live 2023 – The Chic Garden Getaway.
This year we had the pleasure in supporting garden designer Katerina Kantalis with her entry into Gardeners World Live 2023, along with New Look Landscaped Ltd.
We are always amazed at how much work gets done in such a short amount of time to create these beautiful show gardens and this year was no exception, the hard work from all involved paid off when the garden won a Silver award!
Read on and see how Katerina designed a space to provide an escape from everyday life, perfect for both quiet reflection or family entertaining enabling you to unwind, recharge and connect with nature.
Step into the chic garden getaway, a space to make you feel as if you're away on holiday, but in fact, it's all yours for one and all to enjoy, at any time of the year. A space to be used to:
relax within – from the kids to the adults
entertain
sow – grow – eat – cook
nurture and attract wildlife
admire and be proud of
This garden has been designed on an 8m x 9m plot, showing that even a small space can pack a punch. It's a garden for everyone, touched with a mix of elegance with the materials that have been chosen. The colour theme for the hard landscaping are creams, corten steel and green. Touches of elegance come through the herringbone pathway that joins the various 'rooms' in the garden. The eating/cooking zones are laid with a cream porcelain paving, whilst the statement pergola lounge area is laid with a teal green porcelain paving.
Food is an important element of this garden. Not only is this garden a space to sit within, but also to sow – grow – eat – cook. Accents of corten steel are used in the BBQ zone and edging through the planting beds. The outdoor kitchen/BBQ zone has a touch of class with a green ceramic splashback. To ensure that all those tasty meals have the right flavours, a shelving unit is bespoke made to hold all types of herbs, utensils and anything else needed.
Even better, is an oak sleeper veg bed just steps away to grow your own vegetables. Imagine wanting to grab a few leaves of lettuce, tomatoes and spring onions for that salad. Bliss, especially when you've grown your own. Plus, with the kids patch moments away, it allows them to learn and nurture their own veg. Bespoke oak beam supports are built to allow for all those tomatoes, beans, peas or anything else that needs to climb.
The right hand side is all about sitting within and relaxing. A space to get away from it all. For the children – their little getaway zone. With a patch of turf where they can place a few log seats, or a blanket to play and read. Or, if they truly want to get away, a teepee. Nature is really important in this space, with a birdhouse nearby and a still water feature for birds and insects to be attracted to. Finally, a haven for the adults. Beautiful planting borders edge the quiet adult zone, allowing you to sit within on your bench or egg chair. Grabbing that book, glass of wine or G&T, whilst admiring and looking back at the whole garden.
Planting wise – this garden is about a warm colour theme, purples, pinks, apricots and green. Bringing in scent is also important, but also a mixture of flowers, evergreens and herbs. Mixing herbs such as thyme, oregano and sage into the borders with your lavenders, salvias and hydrangeas. Finally, trees – a Birch tree for that dappled shade and near the veg bed, a fruit tree to bring in spring colour but also that element of grow your own. The garden is edged with double slatted contemporary fencing to provide privacy.
Congratulations to everyone who worked together to make this beautiful garden a reality!